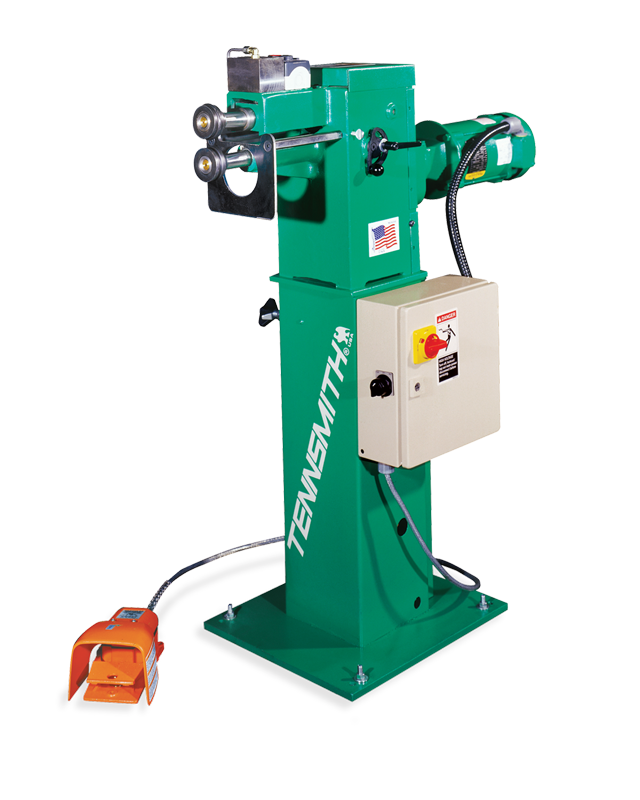 POWER Series
The PR-16 series powered rotary machines are capable of forming numerous applications up to 16-gauge mild steel material. Standard features include variable speed control, heavy cast body with steel body stand. Crimping, single beading, ogee beading, elbow edging, flattening, wiring, burring and turning rolls are available.
PEXTO
Motor Driven
The Pexto No. 3617 is a versatile machine designed for deep throat beading, crimping, and other roll operations up to 18 gauge material. Back-geared, with steel horn, bronze bushed bearing and one-piece frame. Mounted on floor stand with adjustable motor mount, "V" belt drive, and 230V or 460V 3/4 hp geared head motor.


PEXTO
COMBINATION
Pexto's Combination Rotary Machines, with interchangeable rolls, are versatile forming tools for the manual performance of numerous sheet metal operations. They feature a solid cast, enclosed frame and smooth meshing machine gears. Material can be fed through the rolls in either direction by selecting the proper arbor.
MANUAL Series
With interchangeable rolls, our rotary machines are a versatile forming tool for the manual performance of numerous sheet and metal operations.

Pexto forming machines included in this section offer a broad variety of shapes and capabilities in forming sheet metal for a combination of uses: beading, crimping, setting down, double seaming, turning, burring, wiring, elbow edging, flanging, and flattening.